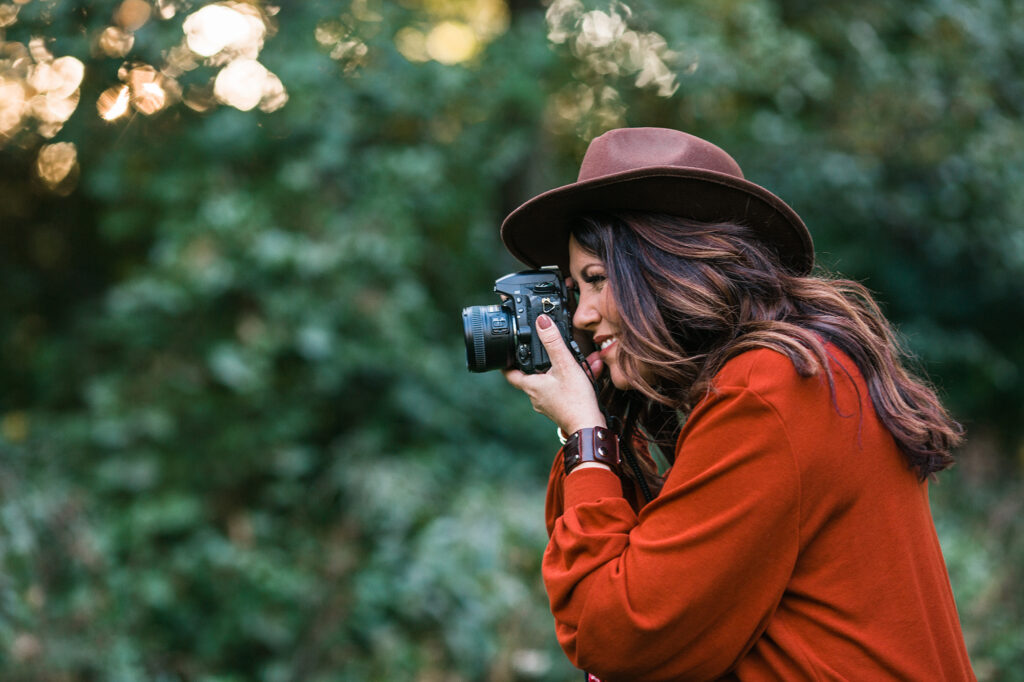 Newborn photography was not a "thing" when my kids were born. Anne Geddes was a photographer in the 90's that kind of started the whole craze of using props and putting babies in life size looking flowers and in cute little furry animal suits.  I was amazed by her talent and skill!
The first photo I got of my kids was the same one that everyone else got at that time (you probably had the same one too!)  The hospital shot where they were either sleeping or crying. I have one of both! Or the bad disposable camera photos, because we didn't have a good camera and we didn't have cell phones.
Luckily, my Mom had a pretty good camera and she took a TON of pictures of my son. But, then we moved out of state and went back to the crappy camera photos again. Remember one hour photo service? Yep, I was there often!
Anytime I did schedule a photo session as they got older, I would dread it so much! The figuring out outfits, trying to keep them happy, getting them to cooperate, just hoping for one good shot and forget about doing my hair & makeup like I would have wanted.  I was pretty frazzled by the time we arrived and then most of the time, we had to sit in the waiting area for what seemed like FOREVER, waiting to get called back.  The kids begging for snacks, crying, noses running…
It was so stressful.
But, getting them done is totally worth it, trust me.  I see it time and time again.  You won't believe it until you see the photos, prints and albums you can create with those images.  Especially of your little ones.  Capturing all the details of how they are now, because they change so fast.  I can relate.
My kids are grown and out on their own.  Time flies and I do often look through the old photo albums at the fading photos from years ago and I can literally remember so much about that time.  How they wrinkled their little nose when they smiled, how it felt to be a new Mom for the first time.
It is even fun to watch them look at photos of me and laugh at my hair and now that they are older laugh at what they wore back then (90's kids lol!)  Without those photos, are bad as they may be, my kids would not know what they looked like, or what their family looked like.  Think about how weird that would be.
This is one of the reasons I enjoy my job of capturing and documenting my clients stories.
I love helping take the stress of out professional photos and do this with session planning, wardrobe guidance and planning, posing you to all look your best and even wrangling your little ones so you can focus on enjoying your time with me, while playing with your kids, or even kicking back and relaxing during your newborn session, which I am sure you will need by the time you see me!
I do all of this because I want you to have these memories captured.  I want them to be something you can share with your kids someday.
I absolutely LOVE what I do and think it is SO important to document ourselves for future generations and also to enjoy having now.  Sure, we all have cell phones that we can snap photos of our kids and day to day life, and I think that is great!  But, getting professional photos is special and you want to look your best.  I get it and I am here to help you do that!
I worked in the medical field for 20 years.  I was passionate about it at first, but as the years went by, I was getting tired.  My heart just wasn't in it anymore.  I started part-time and learned as much as I could about photography.  I could finally capture the images I wanted and it was so exciting!  I jumped in full-time with my photography business, opening up my very own studio, learning all the business end of having a photography studio, not to mention the tech stuff and have not looked back.
I do this to have a better life.  To have a better job, that I love and am passionate about.  I wake up every day excited to learn something new, or to create and capture memories for my clients.
I would love to capture your baby's first photos, or your beautiful baby bump or your sweet family in photos for you to cherish.
Click here to contact me to schedule your session, a consult or for information on sessions!
Melissa has 11 years experience in newborn, maternity and family photography and serves
Metro-Detroit and surrounding areas with a studio based in Troy, Michigan.