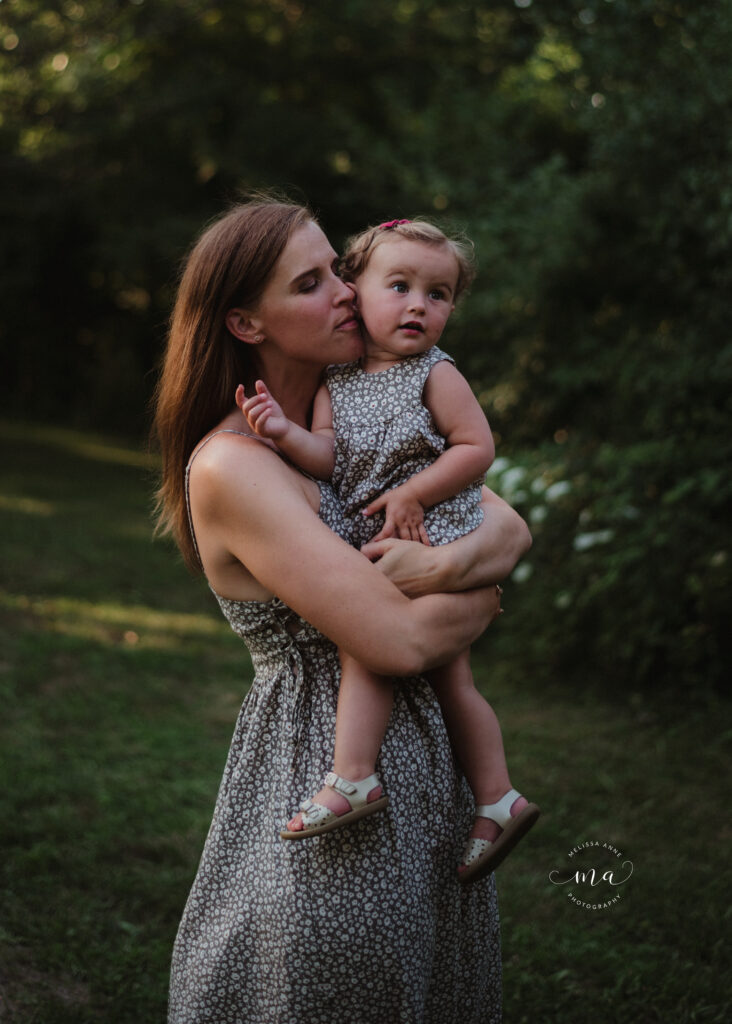 When is the last time you were in photos with your children? Are you usually the one taking the photos or do you make excuses why you don't jump into photos with your kids?
We always make excuses not to be in photos…"once I lose some weight"…"I don't have anything to wear"… "The kids will probably not listen and act crazy"… "I have never had a professional photo shoot, so I don't know how to pose".
I totally understand all the reasons not to do it, because I was that Mom. I was always behind the camera and always thought once I lost that baby weight, I would book professional photos with my kids. I mean, I didn't feel good about how I looked, but back then, photo sessions were SO different than what we do now! And guess what? I never booked the photo session. The only photos I have are photos other people took at family gatherings and it is one of my biggest regrets, because now they are adults and it just isn't the same.
Back then, everything was super posed too. You went to a photo studio and waited for what seemed a lifetime. The kids would get all crazy and there was no way I would have looked anywhere decent, so I only booked the session for them. But, the photos were basically all the same.
Well, we have a different approach! I love the candid shots. Snuggles and cuddles, playing together, reading a book, playing pat-a-cake, laughing, twirling…anything goes and we may do a few posed, but most of the session I want to capture the connection between you and your child doing the things you do with them daily. Things that mean the most to them.
Worried about what to wear? I also have a client closet with gowns that you can use during your session, so you don't even have to worry about finding the perfect outfit! I have several boho style gowns that will go perfect with our setup! I have lots of places to recommend for outfits for the kids if you are looking for an outfit for them, and I have a few outfits for smaller ones…just ask and I can check what I have or recommend some places to shop!
Let me wrangle your little ones, help you pick the perfect outfits and pose you so you love the way you look! Don't be absent in photos with your kids. They won't care about the reasons why you weren't in photos with them… but they will care that they have no photos of how present you were in their lives.
Includes 5 digital images that you choose from your own proofing gallery
Retouching of final images
Digital Collections
print options
20 minute session
access to our client closet
wardrobe styling assistance
Beautiful Boho setup in our Troy MI studio
8×10-$25
Mini Albums (3) $50
Canvas Wall Art 11×14 $99 or 16×24-$140
Digital Collections 5-$125 10-$200 20-$300
Check out our availability
Pick your date/time on the schedule
Fill out the form
Pay your invoice
Check out our pre session information email
Finalize your gown choice
Plan your kids outfits